Western Digital: Not A Bargain Right Now, But A Sound Investment – Seeking Alpha
A few days ago Mark Bern published a very informative article about Western Digital Corporation (NYSE: WDC) and raised the question if the company is "an investment or a speculation?" As result of different concerns regarding WDC the author ended the article with the conclusion that the stock is rather speculative. Although I won't recommend buying Western Digital at current price levels, I'm pretty pleased with my investment so far and will explain why I'm rather bullish than bearish on the stock although there might be some issues with the company. We will look at the future potential of data storage, we will look at the development of revenue and net income and end the article with an intrinsic value calculation. But we will start the discussion by looking at the most worrisome aspect – the high debt levels.
The debt: Rather concerning
For many years Western Digital had almost no debt (and hence a very low D/E), but on May 12, 2016, the acquisition of SanDisk was officially completed and in order to finance the transaction WDC took on several billions in debt. On December 30, 2016, the total debt was $13,299 million. Six months earlier the total debt was about $17.5 billion and therefore WDC already managed to reduce the outstanding debt by $4.2 billion (but had to reduce the cash and cash equivalents from $8,151 million to $4,940 million). Most of the outstanding debt needs to be paid back in the years between 2020 and 2024. The D/E ratio of 1.24 can give us a first hint – that the debt levels are not extreme, but can be a burden for the company.
In the last 10-Q (page 55) the company provides a good overview of the expected costs due to interest expenses and debt that needs to be repaid (plus some other expenses), which helps us to get a feeling if the debt is manageable by generated revenue.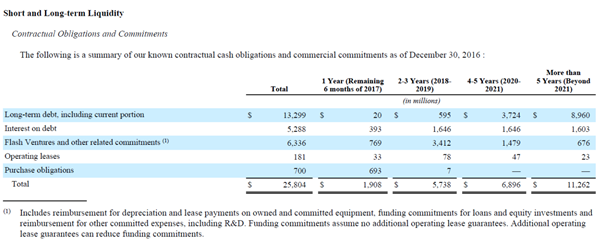 In the last two quarters the company had an operating income of $525 million and $545 million – if we expect that WDC can at least manage to keep up that level we would have an annual operating income of about $2.1 billion[1]. Under the premise that WDC keeps the dividend at least at $2.00 there is $517 million necessary for annual dividend payments. If we also take into account that WDC has about $5.6 billion in cash right now and also consider the expected costs due to interest expenses and debt that needs to be repaid (chart above) at the end of 2021 the money won't be enough. Western Digital will therefore either have to take on new debt or the revenue and operating income has to be even higher in the next few years. As the expenses for R&D and SG&A are still significantly higher due to the acquisition of SanDisk (according to 10-Q), there is a good chance that the operating expenses decrease again in the next quarters and we can expect a higher operating income.

Although Western Digital's plans to pay back the debt are very ambitious and they want to be debt free in a rather short time and they can easily try to restructure the debt and have a few more years to pay back the debt, the high debt levels and high interest expenses are a little bit worrisome.
The outlook: Rather bullish
The high debt levels are particularly worrisome if – for some reason – revenue would decline. And Mark Bern is absolutely right by pointing out in his article that WDC would be in big trouble if some technology disruption makes the technology developed by WDC obsolete. It is certainly a risk that technology companies (and the shareholders) have to consider (and maybe live with) that technology can change very quickly. And while it seems unlikely that a company like Starbucks (NASDAQ: SBUX) will go under because coffee is replaced with a different, better coffee or some other beverage, this can happen to data storage technology.
But aside from that particular risk, we look at an increasing demand in data storage in the next several years (and probably decades). On the one hand WDC expects that social media platforms will lead to rapid growth in the creation, sharing and retention of high definition video, high resolution images and other big data files. On the other hand, there will be an increasing demand for data access and big data analytics which will increase the need for data storage at both the local level and at the off-site, network-accessed or "cloud" levels.
Pictures taken with smartphone cameras, a video taken with a GoPro (NASDAQ: GPRO) Hero action camera and everything uploaded to Facebook (NASDAQ: FB), Twitter (NYSE: TWTR), YouTube or Instagram. Nobody will deny that ordinary people – at least in the western developed countries – produce more and more data that needs to be stored. Additionally, a lot of content needs to be available all the time – music, movies, TV shows or other kind of content need to get streamed night and day and require a lot of storage capacity (and it is not enough to store it once, but several times as there are many different people who want to access the content simultaneously). But not just ordinary people like you and me need more and more data storage capacity. Most corporations around the world have digitalized their archives and documents are saved for a very long time, not to mention the enormous amounts of data that are collected by smartphones, fitness-trackers, surveillance cameras and so on.
WDC has no real moat to protect its business, but at least the company is an industry leader in the declining though still important HDD market, which is only divided between three companies right now – Western Digital has 43% market share. The two competitors Seagate Technology (NASDAQ: STX) and Toshiba Corp. (OTCPK: OTCPK:TOSBF) have 39% and 17%. Western Digital also saw the writing on the wall and by the SanDisk merger positioned itself well in the SSD market, where Western Digital has already a market share of 16% (second place behind Samsung (OTC:SSNLF), which holds 38.8% market share). All in all I think Western Digital is well positioned to profit from the growing demand in storage capacity (HDD as well as SSD).
The numbers: Rather promising
If we take a look at revenue and net income for the last 10 years we see a big increase in revenue from 2007 till 2013 (about 180% increase in just 6 years), but a steady decline since then. In the last three years, Western Digital didn't seem to be able to stop the revenue decline. If we look at the net income we see high volatility (a good year followed a rather bad one), but from 2007 to 2012 WDC almost managed to triple its profit. While revenue was only declining a few percentage points in the last three years, net income dropped over 80% in 2016.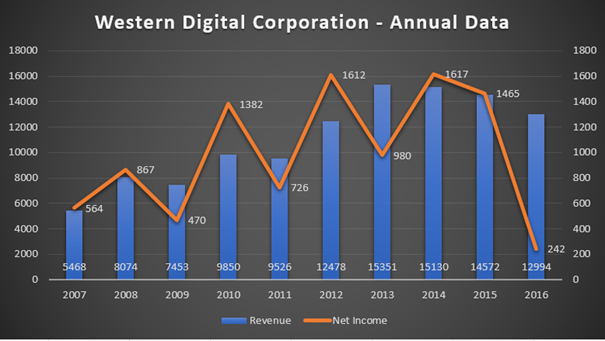 If we just look at the annual data we can only state that WDC is no company to invest in, as it is in terrible condition and there is absolutely no sign for a turnaround. But if we look at the quarterly data instead, the picture looks a little different. We see the same decline in revenue and net income since 2013 and we see the two bad quarters Q4/16 and Q1/17 with a loss of $366 million each quarter. But we also can spot something else: since Q3/16 the revenue decline has not just stopped but revenue in the last three quarters was higher than in 2013 before the drama began. Revenue for the last four quarters was $17,746 million and therefore significantly higher than in 2013. It is also true that net income isn't as high as it used to be before, but the net income turnaround (which started a few quarters later) is also visible in the chart.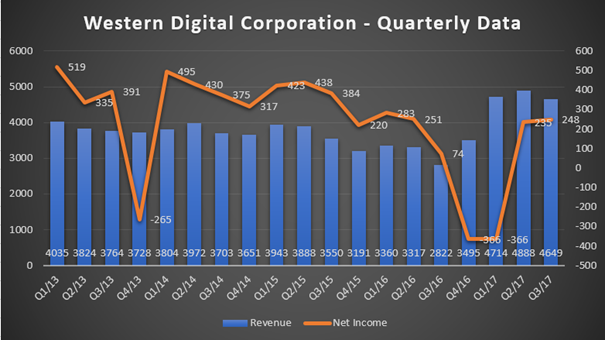 One swallow certainly doesn't make a summer, but the data for the last quarters is at least a strong hint – that WDC managed the turnaround in revenue as well as in net income and will at least return to previous levels regarding revenue and net income. The company's own guidance for the next quarter states about $4.8 billion in revenue and a Non-GAAP (!) income of about $780 million.
The value: Rather over- than undervalued
Using a similar net income and free cash flow as in the last two quarters and also assuming that net income will stay more or less the same (only a slight growth similar to GDP growth) for the next 10 years, we get an intrinsic value of $48.06 (using a 10% discount rate). But if we assume that WDC will manage to have a similar net income as in the years 2012 and 2014 and will grow similar to GDP (not a high growth rate, by the way) in the next 10 years, the intrinsic value – again using a 10% discount rate – would be about $80 and therefore WDC would be fairly valued right now. I'm well aware that analyst estimates are in many cases exaggerated, but according to Morningstar the estimated EPS for the next two years are $7.24 and $8.65 and therefore significantly higher than in 2012 and 2014. And especially if we consider the acquisition of SanDisk, Western Digital should be able to generate higher revenue and higher earnings than before the merger and net income of 2012 and 2014 should be exceeded. But on the other hand we also have to consider the risk due to the high debt levels and a bigger margin of safety is recommended and hence WDC is not a buy for me right now.
Conclusion
Since the lows in May 2016 the stock gained about 150% without a major correction and therefore we shouldn't be surprised if the stock declines more than just a few percent in the near future. Although I think it is too late to buy, I won't sell any shares. The company is certainly not undervalued any more, but I also don't think that it is extremely overvalued (like some other stocks are right now). Past performance doesn't guarantee future success, but I think it is at least worth mentioning that WDC gained over 4400% since the lows in 2001 – a performance not many stocks can match. One last point: Stephan D. Milligan bought 22,500 shares in May 2016 at the price of $45.53 per share (after he sold about 100,000 shares in 2015 at a price between $85 and $110). The CEO demonstrated not only a good timing, but with an order volume of over $1 million I think it is safe to say that the CEO is confident in his own company.
---
[1] I think that Q2 and Q3 of a year provide a good average of the operating income as the first quarter was usually the strongest and the fourth quarter usually the weakest and the second and third quarter were somewhere in between (overview over the last quarters).
CommentsWrite a Reply or Comment: