The Future Of Western Digital – Seeking Alpha
In a previous article, "Testing Western Digital's Bargaining Power", I discussed the situation surrounding the sale of Toshiba's (OTCPK:TOSBF, OTCPK:TOSYY) fabled flash memory unit and why there would be such a significant upside available to whichever company would be able to secure the acquisition. I still believe that Western Digital (WDC) is the most likely to complete the deal – which would in turn help Toshiba salvage a chance to avoid being de-listed from the Tokyo Stock Exchange. Today's court hearing will be very telling as to whether Western Digital can gain the upper hand, as the two companies' lawyers attempt to settle their disputes via the medium of court.
On Tuesday, the first blow was dealt to Toshiba, with Western Digital being granted a court order to receive chip samples and gain unrestricted access to its shared databases. However, this is just the beginning of the resolution – the biggest hearing will be held later today, where a decision will be made against the claim that Western Digital is interfering with Toshiba's attempted sale of the flash memory unit. Western Digital owns 49% of the unit already, and it believes that Toshiba's handling of the sale is in breach of the code of conduct for its joint venture. The resulting verdict will likely prove crucial to who prevails in this bidding war, as I will now explain.
If the court rules that WD has been interfering in the sale of the unit, then it is possible that Toshiba will get another chance to complete the deal with its favoured consortium of US, South Korean, and Japanese investors. However, there are some complications with this cohort, due to the inclusion of SK Hynix (OTC:HXSCF) (a rival chip-making company) in the group.
On the other hand, if Western Digital wins the legal battle, then the ball will lie firmly in its court; the end result will then almost definitely be WDC and its choice of backing investors securing the final bid and taking over the unit. Recently, Western Digital has made an increased bid to level the playing field and make it the joint highest bidder, which might give it some hope, even if it loses its court appeal.
Moving on to some company specific analysis, I will now take a quick look at how Western Digital is valued as a company and what this acquisition could do to its earnings potential and market sentiment, if it is completed.
Through the following simple comparable analysis, I have compared WDC's share price, earnings per share and price-to-earnings ratios to its peer group (composed of fellow microchip-based firms).

It is obvious to see that the enormous EPS figures from tech giant, Samsung (OTCPK:SSNLF), are very influential to the group average EPS. The forecasted share price for Western Digital assumes that the company's P/E can grow slightly to match the sector's average and that WDC can bolster its earnings per share figure towards the 16.59 average figure.
From this, we can see that there would be significant upside potential for Western Digital's stock if it were able to execute on this earnings growth, with the forecasted share price representing a growth figure of 381% from WDC's current value. However, looking at the enormity of Samsung's EPS figure as compared with those of the other chip-makers, Samsung, like other large tech companies, has achieved these figures through its diverse business model and the ability to tap in to a multitude of revenue streams and marketplaces. There has been a lot of profit to be made from Samsung's semiconductor unit over the last year, but when times have been harder for chips, Samsung has a lot of other assets and revenue streams to rely on. For Western Digital to grow its earnings as forecasted, it would need to adapt a similar model, whereby it would become less prone to the swings in profitability in the chip business.
The below chart shows the benefits that Samsung has reaped due to its diversity. Samsung's stock has grown over the last three years, unfazed by the falling chip prices during 2015, whilst companies such as Micron (MU) that are focused solely on chips have suffered a different fate. This is due to the volatile, commodity-like pricing movements of the cost of the chips, which are based entirely on fundamental supply and demand factors. As explained here, chip stocks (including WDC) have rallied in the previous 12 months because demand has outweighed supply and high chip prices have proved very profitable. But, prior to that, they had been falling for the exact opposite reason.
It is hard to predict supply vs. demand for the future of chips. But I expect the current trend of greater demand to continue for the foreseeable future due to the increasing need for chips, for example, in NAND storage for the world's largest companies – among them Nintendo (OTCPK:NTDOY) and Apple (AAPL) – as the tech sector continues to grow.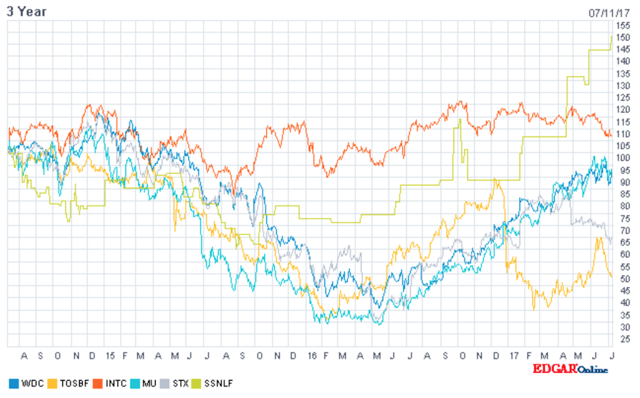 Source: NASDAQ
Now, we'll look at what the potential acquisition could do for Western Digital. WDC's annual revenue for fiscal year 2016 was 13 billion USD. In the same period, revenue being generated by Toshiba's "Electronic Devices & Components" sector stood at 1.6 trillion yen (equal to over 8 billion USD at the current exchange rate). Through the acquisition of Toshiba's crown jewel in this space, WDC would likely be tapping into the majority of that revenue stream with the potential to, therefore, add up to a 60% revenue increase to its current annual sales figure. This would filter through to the share price of WDC and aid the company in continuously beating earnings estimates.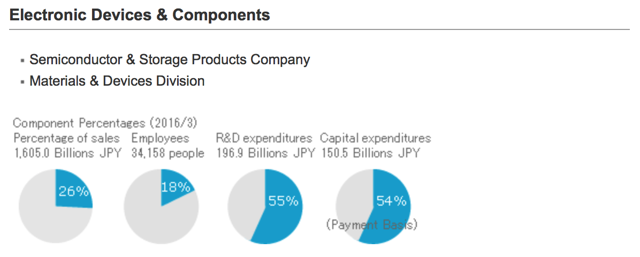 Source: Toshiba Investor Relations
The below comparative analysis (excluding tech giant Samsung) forecasts a potential share price for Western Digital that is actually 57% lower than its current value. This identifies that the stock may have already outperformed the rest of its chip-making peer group and therefore could be slightly overvalued in its sector. Western Digital's current higher pricing can be justified as long as WDC is able to provide continuing growth, but this may be harder to come by if it fails to complete the Toshiba acquisition.

In conclusion, I believe that Western Digital will fare well from this week's court proceedings, and I am bullish on the stock. I see Friday's hearing as crucial in the flash memory unit's exchange, and I am optimistic about Western Digital's chances. Following the decision, if WDC is able to complete this acquisition, then I believe that it will mark the beginning of Western Digital's growth into a larger tech company and aid in the continuation of the current rally that the WDC stock has been enjoying.
Disclosure: I/we have no positions in any stocks mentioned, and no plans to initiate any positions within the next 72 hours.
I wrote this article myself, and it expresses my own opinions. I am not receiving compensation for it (other than from Seeking Alpha). I have no business relationship with any company whose stock is mentioned in this article.
Editor's Note: This article discusses one or more securities that do not trade on a major U.S. exchange. Please be aware of the risks associated with these stocks.
CommentsWrite a Reply or Comment: