Mobile Is Driving Digital Ad Spending in Hong Kong and Taiwan … – eMarketer
Digital ad spending in Hong Kong is expected to rise 14.0% this year, reaching $638.5 million, according to eMarketer's latest estimates.
Digital ad expenditures will be pushed along by strong spending on mobile devices, which have become a prominent method for residents of Hong Kong to get online. We estimate that mobile's share of digital ad outlays will rise dramatically over the next few years, growing from 49.2% in 2017 to 80.2% by 2021.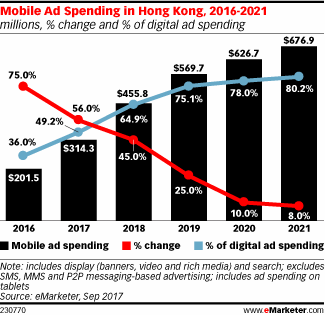 However, digital will make up only 21.3% of total media ad spending in Hong Kong this year, much lower than mainland China's digital share of 59.5%. While China's growing ecommerce sector has become a driver of digital ad spending growth, it has yet to have the same impact in Hong Kong. This is partially due to the market's dense geographic layout, which keeps consumers in close proximity to physical stores.
Ad spending increases in Hong Kong have also been helped along by the special autonomous region's recovering economy. The export-heavy market has been on an upswing in 2017: The first quarter alone saw the economy's fastest growth rate since 2011. Economic improvement has been aided by growing global demand for exports and an uptick in tourism arrivals.
Digital ad spending in Taiwan will grow at a similar rate this year, increasing 14.0% to $792.9 million. Digital's growth will be driven by the popularity of social media platforms including Facebook and Line. eMarketer expects that nearly-two thirds of Taiwan's population will regularly use a social network in 2017.
Taiwan's large share of mobile social network users is why 71.5% of digital ad spending will go to mobile formats this year. As advertisers compete on mobile devices for audience attention, mobile's share of overall digital ad dollars will continue to grow throughout the forecast.
Taiwan's economic outlook for 2017 is more mixed than Hong Kong's. An August report from the Chung-Hua Institution for Economic Research noted growth in the manufacturing and services industries during July 2017, an outcome taken as a sign of wider economic recovery. However, a 7% rise in Taiwan's dollar could ease exporter demand for goods. What's more, Taiwan's relationship with China—its largest trade partner—is shaky at best, since president Tsai Ing-wen declined to endorse Beijing's "One-China" policy.
Given these circumstances, advertisers in Taiwan are being cautious with their investments.
—Corey McNair
CommentsWrite a Reply or Comment: