In Germany, Amazon Makes a Play for Kids' Digital Time – eMarketer
Amazon's lead among paid digital content platforms in Germany could be extended by the recent expansion of its child-focused content app FreeTime to Android device users.
This week, Amazon added FreeTime to Germany's Google Play store. The app now gives those on Android-powered smartphones and tablets access to "thousands" of age-appropriate books, YouTube videos and websites. The service's subscription plan, FreeTime Unlimited, will cost €2.99 ($3.30) per month.
FreeTime has already proven popular in markets where it has been introduced. In May 2017, when the app was added to the US Google Play story, Kurt Beidler, Amazon's director for kids and family, said in a statement that "over 10 million kids have enjoyed Amazon FreeTime on Fire tablets, Kindle ereaders and Amazon Fire TV."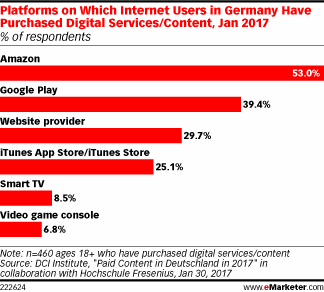 Amazon didn't specify where those 10 million users were located, and the company hasn't announced FreeTime usage figures for Germany. But making the service available on Android could result in a jump in subscriber numbers thanks to Android's strong penetration among smartphones in the country.
According to Kantar Worldpanel figures, 77.7% of smartphones sold in Germany in March 2017 ran Android.
Amazon is also helped by the fact that it's a familiar quantity in Germany. The ecommerce giant is already the country's most widely used platform among internet users for purchasing digital services and content, according to a January 2017 study by DCI Institute and Hochschule Fresenius.
Moreover, it provides content kids in Germany are clearly keen on. Watching movies, videos and TV series was the most common digital activity among internet users ages 6 to 7 in Germany surveyed by forsa for Bitkom in December 2016. Nearly seven in 10 kids in that age group viewed such content at least occasionally.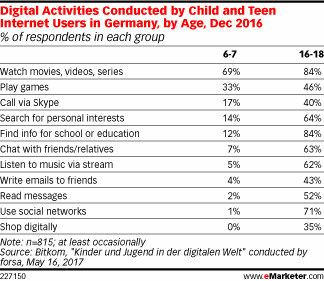 Internet usage in general among that age cohort continues to rise. Bitkom's study found the average daily time spent online among kids ages 6 to 7 in Germany more than doubled between March 2014 and December 2016, rising to 39 minutes per day. Time spent online per day rose in step with the age of the children studied, with teens ages 16 to 18 spending more than 2 hours daily online in December 2016.
But FreeTime has a feature intended to placate parents worried about rising internet usage among kids. Parents can limit access to the app using features like Learn First, which hides entertainment content until users meet preset education goals, and Bedtime, which automatically turns FreeTime off at night.
—Cliff Annicelli
CommentsWrite a Reply or Comment: