Consumer Spending Downwardly Revised On Weak Mobile Phone Sales – Seeking Alpha
Summary
Weak mobile phone sales push down former consumer spending numbers.
U.S. exports lower than originally reported, trade deficit widens.
Upward revision in inventories push overall GDP number higher.
Headlines blared the revised GDP numbers were better than originally reported, but less focused on was the more ominous parts of the report, which revealed exports were significantly downwardly revised, and more important, consumer spending wasn't as strong as believed, based upon weaker mobile phone sales.
While it wasn't surprising to see exports weaker than expected, it was somewhat of a surprise to see the reason consumer spending was down was because of falling sales in the mobile phone market.
On the positive side GDP increased from an estimated 1.5 percent pace to a 2.1 percent pace, based upon a higher level of restocking of goods than first reported for July-September.
To me the consumer spending numbers are far more important than inventory build, as are exports, which in the case of exports, will continue to be under pressure as the U.S. dollar strengthens.
Economic growth still weak
I'm not impressed with these revised numbers, and in fact I am more concerned than before because of the consumer spending revisions.
The 2.1 percent increase in GDP continues the volatile and unpredictable pace of the economy in 2015, which started the year with the first quarter generating only 0.6 percent GDP growth, followed by a more robust 3.9 percent gain in the second quarter.
This is primarily being touted as a reinforcement to the idea the Federal Reserve will raise interest rates at its next meeting in December. That's of course possible, but barring something unforeseen in the economy, it's almost a surety the Fed will raise rates.
I don't think this report, one way or the other, will have an impact on the decision. The Fed has been reluctant to take the step, but there is little in the way of it doing so now.
Economic growth is not that impressive, but it's not terrible either.
Exports
Lower Chinese demand for raw materials and a stronger U.S. dollar has slowed down U.S. exports for some time, so it wasn't a surprise to see the data being downwardly revised. What did surprise me some was the level of the revision, which dropped from a 1.9 percent growth rate to a 0.9 percent growth rate.
This has increased the politically sensitive trade deficit as well.
What this means is manufacturing in the U.S. will remain under pressure through 2016, as the U.S. dollar will strengthen further when the Fed raises interest rates, and there's nothing to suggest demand from China will improve.
We're very likely to see contraction in U.S. manufacturing sometime in the next year, based upon the size of the revision and the enduring demand and currency trends.
This probably won't be a gamechanger because much of this has already been priced in, but it will be a drag on the economy through 2016. It will become more important if other areas of the economy slow down, especially consumer spending.
Consumer spending
As mentioned earlier, it's very concerning to see consumer spending weaken as we head into the holiday season. It's not that the numbers were slightly revised to the down side that's troubling, it's the fact that it was partly from a decrease in mobile phone sales that makes it worrisome.
In its latest earnings report Apple (NASDAQ:AAPL) stated demand for its new iPhones exceeded supply, and was working on ways to increase manufacturing output. That tells me the demand is primarily coming from China, as if it was from the U.S., it would have been reflected in the revision.
This won't necessarily be a big deal for Apple, but it reflects the possible sentiment of the U.S. consumer, which if it's starting to decline, would be a real area of concern going forward for the U.S. economy, where consumer spending accounts for about 70 percent of GDP.
One thing to consider would be American consumers may have decided to wait longer into the holiday season before buying mobile phones for themselves or family members.
(click to enlarge) source: StockCharts.com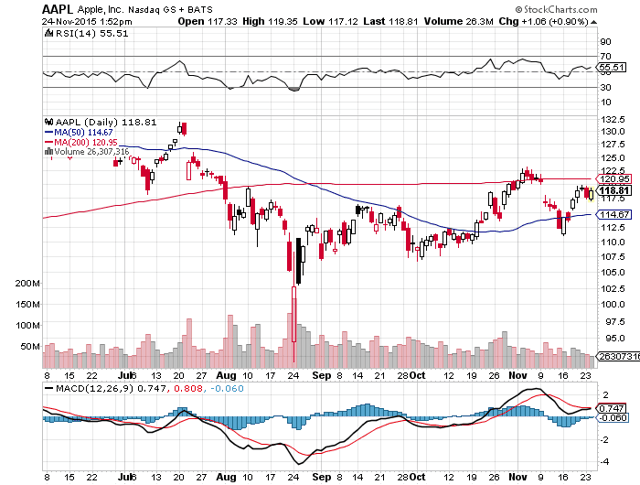 Conclusion
We won't know the real health of the American consumer until after the holiday season, but early indications are consumers are starting to move toward discounters rather than luxury brands, as evidenced by earnings results of Nordstrom (NYSE:JWN) and Macy's (NYSE:M).
If this further plays out throughout the season, it would signal there has been a significant change in consumer sentiment, which wouldn't bode well for 2016.
It would point to a change in consumer spending behavior, which in 2015 was driven by big-ticket items as a result of easy credit terms. Beyond vehicles, it included products like big screen TVs and appliances.
Even though it's too early to make a call, this is something that has to be closely watched by investors. If consumer spending is slowing down in the U.S., which a decline in mobile phone sales could be indicative of, there is little in the way of catalysts to lead the U.S. economy to meaningful growth.
CommentsWrite a Reply or Comment: