Apple Sticks Its Nose Into The Toshiba/Western Digital Joint Venture – Seeking Alpha

Bloomberg reports that Apple (NASDAQ:AAPL) plans to take an equity stake in Toshiba's (OTCPK:TOSYY) chip unit of an estimated 16% as part of a consortium led by Bain Capital that also includes Dell (NYSE:DVMT), Seagate Technology (NASDAQ:STX) and SK Hynix (OTC:HXSCF). Apparently Toshiba has signed a memorandum of understanding with Bain with the goal of inking a final agreement this month. Apple is obviously making the move to protect its NAND chip supply. Not only that, but also cell phone competitor Samsung (OTC:SSNLF) has the largest market share in NAND production. Apple certainly does not want to become increasingly dependent on Samsung for such a critical component.
But can the deal be consummated without the agreement of Western Digital (NYSE:WDC)? The sale of Toshiba's chip unit has been held up for months because WDC – a joint venture partner with Toshiba in its chip business – has argued it has rights in any sale and filed for arbitration in the United States. Regardless, Apple's move looks opportunistic considering Toshiba needs to raise the money by March to avoid seeing its shares de-listed from the Tokyo Stock Exchange. However, it seems as though court delays could certainly push closure of the deal past the deadline.
But the Toshiba auction has been a circus since day 1 due to the strategic importance of NAND and the well capitalized players involved. Every day brings a new "winner" (and loser). But with so many moving parts, it's hard to predict the outcome. Japan certainly wants to shield its technology from getting into the hands of Chinese chip manufacturers. The Japanese government would like to retain some interests as it is certainly aware of the stakes. Apple wants a cheap supply and more diversity of qualified sources. Bain Capital smells opportunity amidst the chaos and Seagate knows its very survival is at stake (see my Seeking Alpha article: Western Digital Versus Seagate). But Toshiba's bankers want their money and a WDC legal challenge is likely to delay the pay-day, leading to a potential de-listing for Toshiba.
As a result, WDC's stock has been on a roller-coaster ride, gyrating wildly in a band from $80 to $95 over the past couple of months. Today it's up $2.58 which means there is likely a new (and meaningless) press release.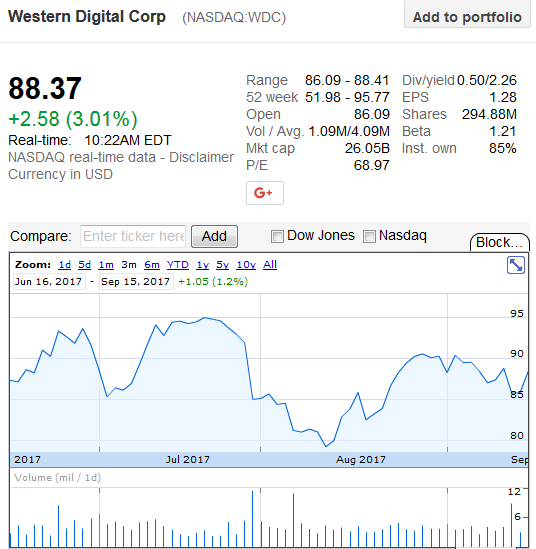 I say meaningless because "winners" and "losers" in this NAND drama have been predicted and written about many times over the course of this auction. But until contracts are signed, legal challenges are resolved, and the "winners" and "losers" are actually known, it's all "ka-ka" in my opinion.
But what about WDC even if it does not "win" in this battle? The fundamentals of the company still look very strong given its SanDisk unit's healthy 17.3% market share in Q2: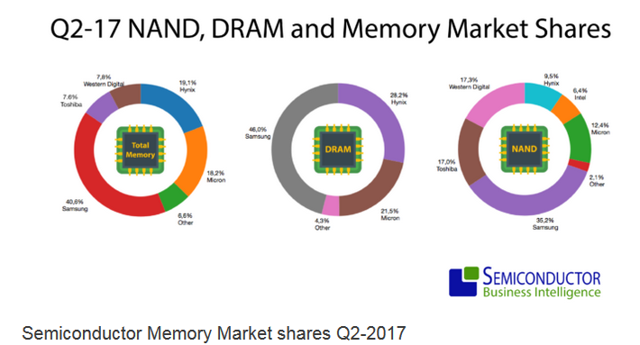 Source: Semiconductor Business Intelligence
That is up over a percentage point from 16.1% in Q4 FY16 (Source: IDC). Yet as the first graphic above shows, Samsung is a monster in leading edge memory solutions, and that is obviously a concern for Apple.
So WDC is already well positioned in NAND even if it were to lose out in the current Toshiba auction. Seagate is obviously playing catch-up. As evidence, I offer the analysis in my comparison article referenced earlier of the two companies' Q2 EPS reports. And memory demand is accelerating – with the memory in the lowest tier new iPhone doubling in the new iteration and quadrupling in the past year (see iPhone 8 and iPhone X).
Summary & Conclusion
Despite the high-profile entry of Apple into the Toshiba chip unit sale circus, the truth is this: WDC's rights within the Toshiba JV will be settled in a courtroom – not with public press releases. And if Toshiba was confident in the outcome of such a legal battle, why had it not gone forward with a sale much earlier?
So the final answer is likely months away if Toshiba does not play-ball with WDC, and that is a very risky game for Toshiba to play considering the risk of being de-listed. This is probably why Toshiba's press releases have contained unusually non-binding language. It seems to me Toshiba is merely trying to motivate the Western Digits/KKR consortium to sweeten its bid.
The WDC/KKR team is likely to be the winner because it is – apparently – the choice of the Japanese government. The government obviously would not like to see Toshiba de-listed and it also would like to keep the number of companies with access to critical NAND technology to a minimum. I still think WDC comes out a winner in this drama. WDC is a BUY based on continued strong NAND pricing, continued cost cutting as a result of its earlier Hitachi acquisition, its excellent position in the SSD market, and the likelihood of coming out the eventual winner in the Toshiba auction.
Disclosure: I am/we are long WDC.
I wrote this article myself, and it expresses my own opinions. I am not receiving compensation for it (other than from Seeking Alpha). I have no business relationship with any company whose stock is mentioned in this article.
Additional disclosure: I am an engineer, not a CFA. The information and data presented in this article were obtained from company documents and/or sources believed to be reliable, but have not been independently verified. Therefore, the author cannot guarantee their accuracy. Please do your own research and contact a qualified investment advisor. I am not responsible for investment decisions you make. Thanks for reading and good luck!
Editor's Note: This article discusses one or more securities that do not trade on a major U.S. exchange. Please be aware of the risks associated with these stocks.
CommentsWrite a Reply or Comment: